DC Comics History: Hourman

By Deejay Dayton
May 25, 2015 - 13:00
Shy and meek young chemist Rex Tyler creates the Miraclo pill, which gives a person enhanced strength, speed, resilience and stamina, as well as making his personality alter to aggressive and outgoing, and becomes the first drug-addict superhero, Hourman. Created by Jerry Siegel and Bernard Baily, it is not acknowledged in his original run that he is a drug addict, but it is difficult not to see this in the series. The change from the Miraclo pill to Miraclo ray towards the end of the run seems to indicate that DC felt the character needed some cleaning up.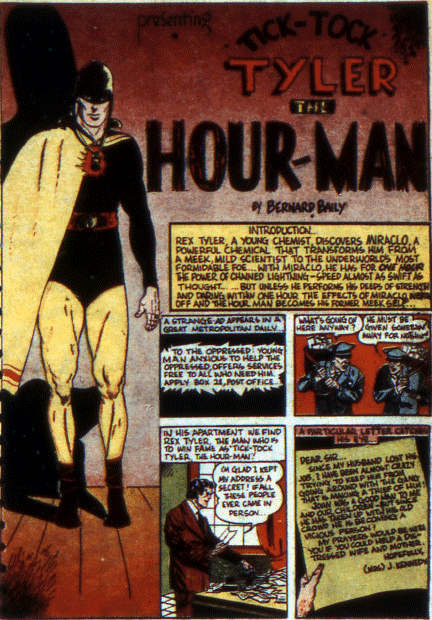 Rex is never given any background, or relatives, or girlfriend. At first his supporting cast is limited to his boss at Bannerman Laboratories, Mr. Bannerman. Bannerman criticizes Rex for being so introverted in the early stories, and in the first couple we see that Rex's personality alters when he takes Miraclo, and that after it wears off he crashes, and reverts to his old persona. This appears to stop happening after a while, and Rex becomes more Hourman-ish even without Miraclo, which is likely why by Adventure Comics 65 he has become Bannerman's chief assistant. Rex is also chosen to be the one to perform the demonstration at the Bannerman exhibit at the New York World's Fair.
The Miraclo pill gives Rex his enhanced abilities for one hour, and the first story includes insets counting down how much longer his powers will last. This clever device to build suspense is not used again until issue 70, but becomes standard for the last year of the run.
Bernard Baily gave Rex a memorable, if simple, costume. Black tights and top, cape and hood, with red highlights. The hood hangs loosely down over the face, with holes over the eyes. Even as a child I wondered about the practicality of this; how the hood stayed in position while he ran, rather than flopping back and exposing his face, and how he managed to see if he turned his head and his eyes no longer lined up with the holes. Again, in the final year this seems to be acknowledged, as Rex's hood is replaced by a form-fitting cowl.
Around his neck, Rex wears an hourglass on a cord. This timer fairly obviously is of use for him to determine how much longer the Miraclo will last, although at no point is it ever used that way in the original run.
In his first two stories, Rex places ads in newspapers, offering to help those in need, and answers a wife's request to stop her husband from being part of a jewel robbery at the Beaux Arts Ball in the debut appearance. In Adventure 55 we learn that Rex is based in a city called Cosmos, which is a very odd name for a city, but this has never been referred to again.
Rex faces off against a number of mad scientists, as well as kidnappers, gamblers, thieves, and the like, but never gets any recurring villains. For that matter, he never gets any really good villains either. Dr. Toog, who creates nasty dog/vulture hybrids called Gombezis in Adventure Comics 57, returns decades down the road, but aside from the unusual name for his unusual creations, there is little noteworthy about him in his only golden age story.
Rex pops his Miraclo pill quite casually in his first few adventures, but then we stop seeing him do this, it is merely referred to, and I think it is not a coincidence that the pill popping panels disappear in the stories that give him a gaggle of kid sidekicks.
The only two times we see him take Miraclo after his first 8 stories are in issues 63 and 67, neither of which feature the Minutemen of America.
Adventure Comics 54 introduces Jimmy Martin, a HAM radio operator and fan of Hourman, who gets other kids who are amateur radio operators to form a gang to assist Hourman. The very logo of the series changes to reflect this becoming "Hourman and Minute Man Martin of the Minutemen of America." Jimmy is the most important of this group at first, although visually the boy with the turtleneck sweater covering most of his face, and a giant cap covering much of what little is left, is the notable one.
In All-Star 2 this boy is finally named, Thorndyke, and he is established as Jimmy's younger brother. Many of the stories deal with other Minutemen, who get into trouble, or the family members do, or they witness a crime, which winds up bringing Hourman into the tale, but none of these kids are featured in more than one story.
Hourman pops a pill before going to address these kids. Possibly because of that, the first act of heroism he gets the Minutemen to do is gang up on a group of thieves and beat them with sticks.
The more one reads of this strip, the less heroic Hourman seems.
Adventure 69 seems to contain a tale that deals directly with Rex's addiction. It begins with a mysterious being who steals his Miraclo pills. Hourman feels weak and powerless without them. The control the other man has over him can also be viewed as a comment on the control the drugs have over Hourman. We see Hourman get paranoid, believing Bannerman is spying on him, and he lashes out uncontrollably at others. The revelation at the end that this was just a dream is hardly reassuring. Either it was a Miraclo-induced hallucination, or his own psyche screaming at him about his addiction.
In issues 72 and 73 Jimmy becomes an actual sidekick for Hourman, wearing an identical costume, though in issue 73 he lacks the cowl, and just wears a domino mask.
In Adventure 74 we learn that Jimmy and his mother have left on a trip, from which they never return, and Thorndyke becomes his sidekick instead, though never wearing a costume like Jimmy's.

But did Jimmy Martin really move away? Hourman exposed the boy to his Miracle Ray in issue 73, and the boy is never seen again. Thorndyke survives exposure to the ray, but he appears somewhat deformed to begin with.
And it makes me wonder, what happened to all the other Minutemen? Does Rex Tyler have a backyard full of children who died from his experiments?
Issue 75 informs us that Thorndyke's last name is Tomkins, which is very unusual if he is the younger brother of Jimmy Martin, so perhaps there is more going on here, with the mother taking off with one of her sons and leaving the other behind. Did Jimmy and Thorndyke have different fathers? As well, in issue 75 Thorndyke is aware that Rex is Hourman, though in none of the earlier stories did any of the Minutemen know his identity.
As the series comes to an end, then, much sooner than that of any other Justice Society member, we can reflect on this dark tale of a mad scientist, whose drug addled mind leads him to cause the deaths of many children.

Hourman's series ends in Adventure Comics 83, and Rex does not return until a JLA/JSA crossover in the Silver Age. Thorndyke does not return until the late 90s, in Young Justice.
Hourman: Adventure Comics 48 - 83 (Mar 40 - Feb 43)
New York World's Fair 1940
All-Star Comics 2 (Fall 40)
Last Updated: December 31, 2019 - 20:28