Food Wars! Volume 12 manga review
By Leroy Douresseaux
Jun 14, 2016 - 14:56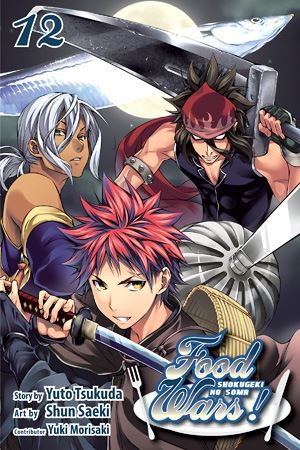 Food Wars Volume 12 cover image
Rated "T+" for "Older Teen"
Soma Yukihira
grows up cooking in Yukihira Family Restaurant, owned by his family and situated in a less attractive side of town. The 15-year-old wants to be a better chef than his father,
Joshiro Yukihira
. So the teen hones his skills day in and day out. Then, his father suddenly decides to enroll Soma in a classy culinary school,
Totsuki Saryo Culinary Institute
, a place that prides itself on a 10 percent graduation rate. Soma does not really want to attend Totsuki, so can he succeed?
As
Food Wars!: Shokugeki No Soma

, Vol. 12
(Chapters 93 to 101; entitled
Moonlight Memories
) opens, the finals of the
43rd Fall Classic
begin. But instead of two young chefs fighting to win, it is a three-way battle featuring
Ryo Kurokiba
,
Akira Hayama
, and Soma. The secret ingredient is Pike, a fish. Ryo and Akira are masters at choosing the freshest fish, but that is a weakness for Soma. Now, he must find a way to create great taste without using fresh fish.
THE LOWDOWN:
My mouth is usually watering the entire time I am reading a volume of the
Food Wars!
Manga. This time I couldn't make myself salivate over fish, which is not a favorite dish of mine. Canned tuna and fried shrimp, with a few exceptions, are about it for me.
Food Wars!: Shokugeki No Soma Volume 12
, my tastes aside, is a thoroughly enjoyable read. It is so good that it might make a few readers disrobe the way succulent dishes force some series characters go nude or nearly nude. Was there anything new in Vol. 12? Yes, we learn that a meal is never over until it is over...
POSSIBLE AUDIENCE:
Hungry readers and foodies will want to sample the menu of the Shonen Jump Advanced title,
Food Wars!: Shokugeki No Soma
.
A+
Rating: A+ /10
Support this writer on Patreon
Last Updated: Jun 26, 2018 - 9:28