DC Comics History: Trigger Twins (1952 - 1955: We Don't Need Another Hero)
By Deejay Dayton
Oct 6, 2016 - 10:58
The Trigger Twins rode on through the period 1952 – 1955: We Don't Need Another Hero in the pages of All-Star Western, usually with the cover feature. The brothers, Wayne and Walt Trigger, double up to serve as sheriff. The idea behind it is fun, but the longer this series ran, the weirder the situation became.
Some stories were just pure fun. In All-Star Western Comics 67 Wayne gets injured while rounding up a gang, so Walt has to take his place in the store, so that no one suspects Wayne was helping the sheriff. But sure enough, Linda does get suspicious when Walt does not know "his" store well enough, and voices this in front of one of the bad guys.
And then Walt has to get back into his sheriff outfit to catch the thieves, while at the same time pretending to be Wayne. It's just pure silliness.
Other stories take things more seriously. The story in All-Star Western 65 is, for me, the best of lot, the one that gives both characters the potential for heroism. It begins as Walt is dealing with the Green Bandanna gang, and gets caught by them. Wayne passes by on a cart, but does nothing, and Walt has to get out of the situation on his own. Returning to town, he discovers from Linda that Wayne has lost his memory following a head injury. This is horrible news for Walt, who has been relying on Wayne in every issue.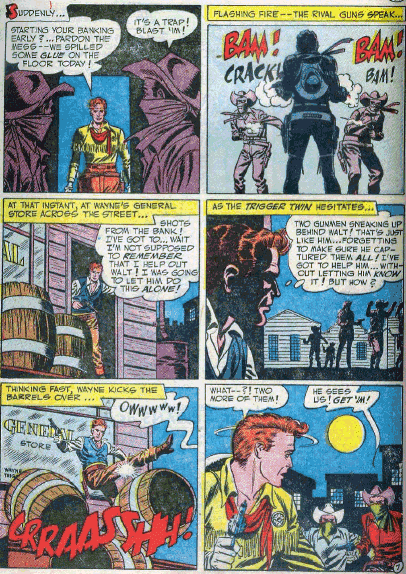 Wayne then gets another head injury, which restores his memory, but he chooses to keep this a secret, as Walt has been dealing with the Green Bandanna gang all on his own. He even has to restrain himself from helping. But in the end, all is for good. Walt has gained confidence in his fighting skills, and no longer needs to rely on Wayne, who can spend a lot more time as a shopkeeper now. Ok, that last remark was silly, but at least now both men could be heroic. But it wouldn't turn out that way in the long run.
There is a great puzzler of an opening in All- Star Western 66. Walt comes back to the town only to find that no one, not even his brother, seems to know who he is. He is even told that Rocky City has had a different man serving as sheriff for the past five years. Walt is mystified, until the recalls that Wayne wiped his brow with a green bandanna, the one acquired during their adventure in the previous issue, in an exceptionally bit of continuity.
The explanation for the situation is a bit complicated, with hoods hunting for the location of a gold mine, an old friend of Wayne's who has found it, and a record with coded information. But it's all worth it, especially when Wayne aids Walt in taking down the bad guys without needing to get dressed up in his sheriff's outfit first.
As I went through these tales I really grew to dislike the Trigger Twins. Not as a series, but as people. Cowardly and dependent Walt, and irresponsible Wayne. So their tale from All-Star Western 74 began in a way I appreciated. Walt finally does the right thing, resigning as sheriff. He has never been up to the job, and except for a brief period, has relied completely on his brother to do his work. Wayne is dismayed that Walt has quit, but Walt insists that Wayne should have the job instead. And indeed, he should.
Wayne gets into the costume when outlaws come to town, but through an absurd set of events, the outlaws wind up thinking each brother is the other, and that Walt's resignation was simply a ploy to draw them out. So the story ends back where it started, with useless Walt as sheriff once again, and Wayne tending the store when not saving the day. Sigh.
Walt resigns from being sheriff yet again in All-Star Western 79, after failing to stop some outlaws. The townsfolk decide to make Wayne the new sheriff, more or less just because he's the same size as Walt. Perhaps they don't want to shell out money for a new uniform. Anyway, Wayne is worried that, if he appears competent, people will suspect that he has been filling in for Walt in the past. Why anyone would come to that notion is not clear.
So Wayne tracks down and catches the bad guys, but then makes it look like he is really Walt, and that Walt's resignation was a sham to make the thieves over-confident. Because Wayne really really wants Walt to be the sheriff, for reasons that are harder and harder to understand with each passing issue.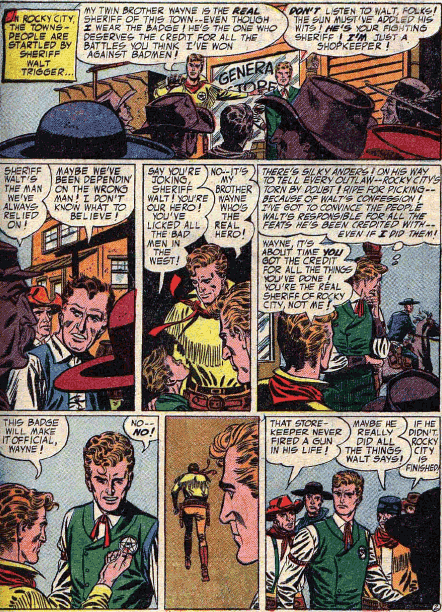 For the third time, Walt resigns from being the sheriff in All-Star Western 80. This time he is taking no chances, and Walt openly admits to the crowd that Wayne had been the one doing all the hard work over the years, while Walt took all the credit. Wayne stays awkwardly silent as Walt pins the badge on him and storms away. The crowd really doesn't know what to think, although since they just made Wayne the sheriff in the previous issue, there isn't much of a reason to fuss over it. When outlaws strike, Wayne has to go after them, but Walt gets involved in the case as well. The climax, as seen on the cover, has Wayne hanging from a rock, and Walt has to rescue him. So even though Wayne saves the day, Walt saves Wayne.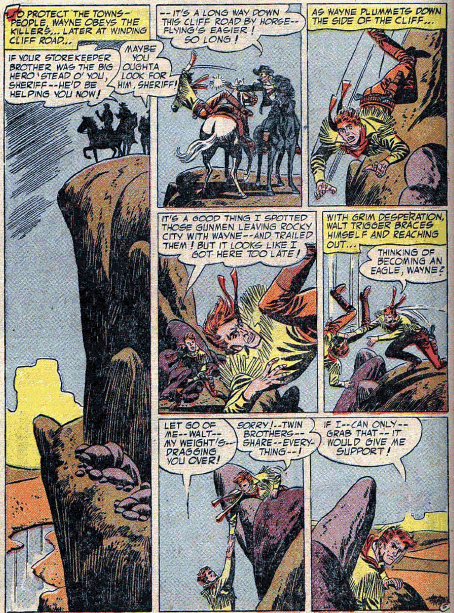 This seems to give Walt some confidence, and he resumes being sheriff as the story ends. The townsfolk write off Walt's diatribe at the start of the story as being the result of sun-stroke, but after three resignations in a year, you'd think they would be losing confidence in Walt themselves by now.
This repetition of resignations would continue in the next era as well.
As low as my opinion of Walt Trigger already was, the story in All-Star Western 76 lowered it even further. Wayne gets framed for murder, and Walt just tosses him in jail, intending to turn him over to the judge to be hung. After all his brother has done for him, he doesn't try to keep him safe, hide him, or even really investigate the case! Fortunately, Walt is so incompetent that Wayne manages to knock him out, while still in his cell. He gets the keys, gets out, changes their clothing and locks Walt in the cell while he goes out to find the real killer.
But the real killer has already come to the jail, to bust out Wayne (actually Walt), part of the big frame-up. So the bad guy leaves Walt to die in a pit. Wayne saves his faithless brother, and catches the bad guys, all to clear his name. Because his brother wouldn't believe in him.
There is another frame-up tale in All-Star Western 82. Rumours gets spread that Wayne's store is not doing well, and this is later used to frame him for robbing a stagecoach.
But unlike the last time Wayne was framed, this time Walt sticks up for him, and together they wind up going after the real thieves. Even though Wayne ultimately has to save Walt's life, and catches the bad guys on his own, it's still a better story for having Walt believe in Wayne.
For the first time since their series began, someone finally sees both of the Trigger Twins in costume together in All-Star Western 83. They are dealing with a fire, and save a young boy, even though this means giving away that there are two of them. The Triggers do their best to convince the boy that he didn't see what he did, and that it was the smoke that messed up his vision, but the kid will have none of it, and follows them around.
This causes problems when Wayne and the boy wind up trapped in a cave in. Wayne devises a really complex way of making it sound like he is chipping his way out of the cave, relying on the fact that kids stay put and have no curiosity whatsoever. He then comes to the aid of useless Walt, who has been grazed by a bullet, rounds up the ones who shot him, and then returns to the cave.
It's all kind of preposterous, and just because the boy sees one of them as the sheriff, and the other as Wayne, doesn't in any way prove that both were not dressed the same during the fire. I'm sure the kid also got up at some point and saw the way Wayne made it sound like he was chipping at the rock, after he left the cave. But the boy chooses to lie and keep their secret, undoubtedly feeling he is much smarter than the adults.
The Trigger Twins continue in the next period, 1955 – 1959: Dawn of the Silver Age.
Trigger Twins: All-Star Western 63 – 83 (Feb/March 52 – June/July 55)
Next up – Don Caballero!
Last Updated: Jun 26, 2018 - 9:28