DC Comics History: Super-Chief
By Deejay Dayton
Jul 11, 2017 - 9:48
Super-Chief was the last new western series introduced by DC in the early 60s. Super heroes were all the rage, and Super-Chief was clearly an attempt to merge the two genres. The origin story is pretty good, but after that the series fizzles out very quickly. Although, to be fair, he only had a total of three stories before cancellation.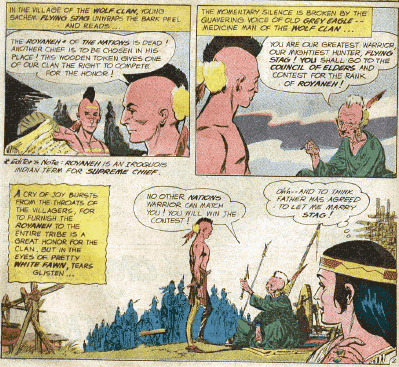 Gardner Fox and Carmine Infantino were the creative team behind Super-Chief, who debuted in All-Star Western 117, using a very similar lettering for the logo as the one Strong Bow had used. And, like Strong Bow, this is a series that deals with the natives, with not a white man in sight, at least for this first story. A contest is being held to determine who will be the supreme chief for all the tribes in a region, and Flying Stag is sent to represent the Wolf Clan. We also meet the woman he is in love with, White Fawn, the daughter of the chief of the Wolf Clan. It is expected that Flying Stag will become the supreme chief, or Royaneh, and then will be allowed to marry White Fawn. Rivals set a trap for Flying Stag, and he falls into their pit.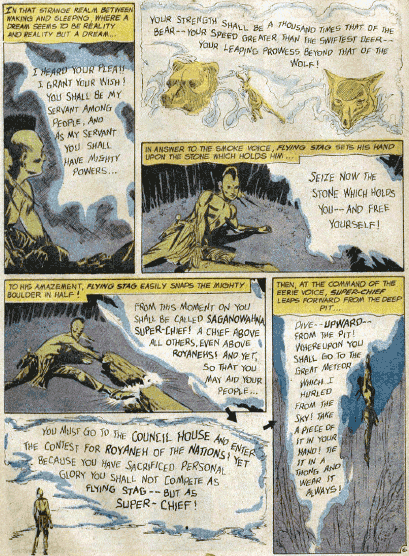 He calls upon the great Manitou for help, and receives not only a vision, but also a powerful stone, which can endow him with super-powers for an hour. But he is commanded not to use these abilities as himself, but to adopt a disguise, and call himself Saganowhana, or Super-Chief. I will use the name Super-Chief, not only because that is the title of the series, but because I need to look up the spelling of Saganowhana every time I write it. So Super-Chief shows up for the big contest, and wins. Immediately afterwards, there are an avalanche and a fire, as well as an enemy attack, all caused by the three rivals.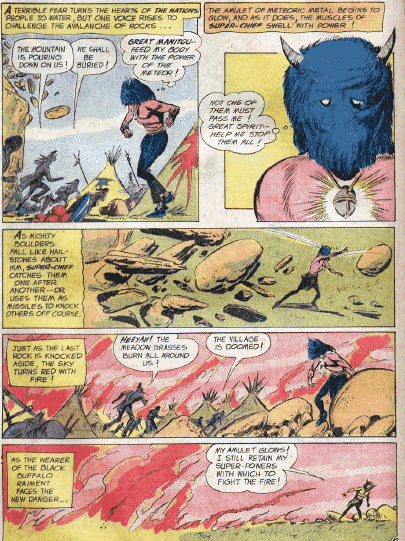 Super-Chief uses his super-strength and great speed to save everyone, and capture the three bad guys. But when he gets back home to the Wolf Tribe, Flying Stag is seen as nothing more than a failure, and he cannot reveal that he is Super-Chief without breaking his vow to the Manitou. White Fawn is no longer allowed to marry him. Instead, her father now wants her to marry Super-Chief. Ain't that always the way?
The Super-Chief story in issue 118 is not as good as the debut. A lot of it is spent with Flying Stag and White Fawn, bemoaning the fact that they cannot marry, while having fun in the snow. But the issue also lets us see that natives who are in trouble (in this case, menaced by giants) who call on the Great Manitou have their needs transmitted by the god to the stone that Flying Stag wears around his neck.
We also see that he keeps his Super-Chief head-gear hidden under a rock, which is kind of basic. So he gets into his costume, such as it is, and uses his powers to fight and defeat the giants. Pretty simple.
Fox and Infantino just go whole hog with the last Super-Chief story, in All-Star Western 119, pitting the hero against aliens. I realize that, as a super-powered character, he needed appropriate foes, but this is just too much.
Flying Stag sees a deer float into the sky, and later White Fawn's little brother gets sucked into the sky as well. Changing to Super-Chief, Flying Stag finds the aliens and battles them, even boarding their ship and bringing it back to Earth.
There is a happy and peaceful conclusion, which seems out of place and easy. Frankly, I can see why the only Super-Chief story that ever got reprinted was his origin tale.
Super-Chief next appears in that same issue of All-Star Squadron that all the other series which debuted in All-Star Western appear in.
Super-Chief: All-Star Western 117 - 119 (Feb/Mar – June/July 61)
Next up – Star Rovers!
Support this writer on Patreon
Last Updated: Jun 26, 2018 - 9:28