DC Comics History: Star Rovers
By Deejay Dayton
Jul 14, 2017 - 20:26
Star Rovers began as a one shot tale in Mystery in Space by Gardner Fox and Sid Greene, but would prove popular enough to become an ongoing series, running through the period 1960 – 1964: the Silver Age. The series had an unusual conceit, in that the three main characters were almost invariably wrong or confused about the situation they are in, and only at the conclusion of the tale do they learn what was really going on. It's fairly amazing how many decent stories the group managed to appear in without altering the format too much.
In Mystery in Space 66 we meet Karel Sorenson, a former Miss Solar System, wealthy big game hunter Rick Purvis, and novelist Homer Glint. As this was not intended to be an ongoing series, there is no logo, and the term Star Rovers is never used. All three characters come back to Earth at the start of the story, claiming to have captured the rare Loborilla, a lobster/gorilla mix.
This tale sets the basic format that the Star Rovers tales would follow, as each one relates how they captured the Loborilla, while the following speaker shows how they were misled, thanks to the Loborilla's use of disguise, and telepathic illusions.
In the end, it turns out that the Loborilla is sentient, and a hunter, and in fact captured Homer Glint, who seems to have been the one to capture him. It's a well crafted and entertaining tale.
Karel Sorenson, Rick Purvis and Homer Glint return in Mystery in Space 69. The entire population of a planet, Sirius-4, has gone missing, and a huge reward is put out for anyone who can explain what happened to them. Curiously, only these three people even try to figure it out. They split up once on the planet, and find a number of curious devices. Each comes up with their own theory to explain the machines, and what happened to the people. Homer actually finds them all, asleep in an underground chamber, which seems to prove that he is right and the others are wrong. But no, in fact everyone is wrong. The people of Sirius-4 are asleep, but only to power their deadly teleportation weapon, which they are using against an alien race who want to kill them all.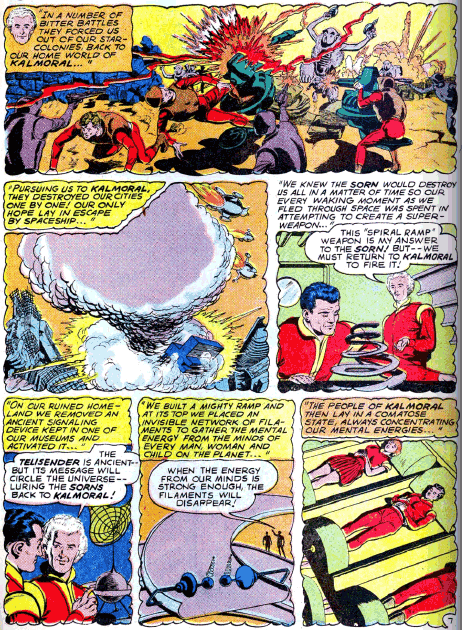 The distress call that was picked up is simply to lure in their enemies. So the three agree to keep this all a secret, and come back to say that they failed, and have no idea what happened to the people of Sirius-4. Although, with the reward, I expect someone else would come along and learn the solution who was not willing to forego the fortune.
The Star Rovers get billed as such for the first time in Mystery in Space 74. Homer Glint enlists the other two into joining him on a planet he has found. Karel and Rick each land in different spots, and all three have dangerous adventures uniquely suited to their skills. Because that's what the planet does, creates whatever the people would enjoy. But the world is sentient, and lives off of competitive energy.
The Star Rovers are perfect "food" for it, and it intends to keep them there, competing against each other, forever. It has some degree of mental control over them, preventing the three from piloting their ships home. But Karel's ship is a rental, and when one stops putting coins into it, it returns to base automatically, so they escape that way.
The three actually work together as a team at the start of the story in Mystery in Space 77, retrieving the lost Sword of Starhedron, which has all manner of properties and abilities. They intend to take it to their home planet, but immediately disagree on which world they are from. The story then heads back into the familiar format, as they meet, in turn, representatives from Venus, Mars and Jupiter, each with proof that one of the team members is from that planet, and each wanting the sword for its unique radiation.
But pretty much everything is a scam. The sword is wanted as a weapon, and the Star Rovers are all from Earth, not from any of the other three worlds. And they even figure all this out themselves, rather than have someone else explain it to them at the end. Definitely one of their better stories.
Mystery in Space 80 has a clever Star Rovers tale, playing with the format without changing it up too much. Homer Glint, Karel Sorenson and Rick Purvis all wind up receiving medals for saving the Earth, although none of the three have any idea what they did to deserve them. They each relate their most recent adventure, and learn how, in each case, there was much more going on than they expected, and that their actions saved the planet.
But the story adds even another element to it. In each case, the person used the techniques or styles of one of the other members of the team. So they exchange their medals, giving them to the person who inspired the actions that they took. It's all sort of round robin, so they all still wind up with medals.
The Star Rovers story in Mystery in Space 83 begins with the three meeting up after recent solo adventures, only to hear an announcement that they arriving at the New York Spaceport. They head out to find the people impersonating them, but wind up sent off to different worlds, instead of arriving in New York.
The story goes back into separate adventures, which deal with a sentient computer that created the duplicates of the team members. The computer is invulnerable to any given attack, as it can manifest an appropriate defense. But when all three attack at once (each one using a technique one of the others had used earlier in the tale), the machine cannot defend against them all, and gets destroyed.
The Star Rovers series in Mystery in Space comes to an end in issue 86, and its probably the weakest of their adventures so far. The story opens as the three emerge from hyperspace, coming home to Earth, which is in the midst of a war with the planet Ankol. But when they expect to land, there is nothing there. Each of them, Rick Purvis, Homer Glint and Karel Sorenson, believe that recent actions that they took are responsible for Earth's destruction.
So they each relate their tales, and then get around to noticing that there are no stars anywhere. Earth has not been destroyed. They have wound up in another dimension. They see an Arkol warship nearby, and attack and destroy it. After this, they are able to reach Earth. They find that they, and the Arkol ship, were bumped into another dimension by Earth's defensive system.
The Star Rovers move over to Strange Adventures for their last two tales, starting in issue 159. In this story, each one has suffered a terrible accident, which has resulted in them being unable to return to Earth's gravity, dooming them to life in space, or on planets with lower gravity.
But Karel figures out that the other two men are lying, as they happen to be sitting in front of gravity meters, which display the gravity of Earth. And indeed, they are, not wanting Karel to be the only one exiled from Earth. But they also figure out how to cure her of her condition. Not great, not awful, about on par for Star Rovers.
The final adventure of the Star Rovers appears in Strange Adventures 163. Homer and Karel each relate their stories, in which they were captured by lizard men, and subjected to machines that alter their ages. Karel is growing rapidly younger, while Homer is aging at an advanced rate.
The story veers somewhat from the usual format, as Rick hears both of these tales, and then we follow his part in it, as he destroys the time weapon. It's not really a great story. It was difficult for Star Rovers tales, with their rigid format, to match up to their earliest tales.
The Star Rovers have only made rare appearances since this tale, the first being a very dark alternate version of the DC's science fiction universe, Twilight, in the early 90s.
Star Rovers: Mystery in Space 66, 69, 74, 77, 80, 83, 86 (Mar 61, Aug 61, Mar 62, Aug 62, Dec 62, May 63, Sep 63)
Strange Adventures 159, 163 (Dec 63, Apr 64)
Next up – Haunted Tank!
Support this writer on Patreon
Last Updated: Jun 26, 2018 - 9:28