DC Comics History: Star Hawkins
By Deejay Dayton
Jun 27, 2017 - 11:44
Star Hawkins, a seedy private detective working in the year 2079, was created by John Broome, Mike Sekowsky and Bernard Sachs. The second of three rotating series to run in Strange Adventures during the period 1960 – 1964: the Silver Age, Star Hawkins was a successful blend of the gumshoe detective genre and science fiction. While Star himself is a bit of a mess, it's his robot secretary, Ilda, who often winds up solving cases, catching bad guys, and saving her employer.
In Star Hawkisns' debut story, in Strange Adventures 114, we learn how Star bought Ilda, but as the story opens, he has already had to pawn her for cash to keep alive. Star winds up taking on a dangerous job, hunting down a witness to a mining deal, who has fled to a remote jungle on a far off world. Star tracks the guy and captures him, and we see that, in 2079, witnesses are compelled to testify by being given truth serum.
With the money he makes off of the case, he gets to retrieve Ilda from the pawn shop. A simple but effective story. Though he gets no logo, Star Hawkins was intended as a continuing series, alternating with Space Museum, and the final panel announces that he will return.
Star Hawkins returns in issue 116, and even gets a logo, although it's about as small a logo as one could come up with. Ilda gets to be the star of this adventure. We learn a bit more about her abilities, including a telepathic spool that enables her to read Star Hawkins' mind, and send him messages mentally. We also discover that she earns wages, which she saves in hopes of one day going to a retirement home for old robots.
Star Hawkins is having a hard time with his latest case, which involves retrieving stolen gems. He is sure he knows who has taken them, a band of gypsy-like aliens, but has no idea how to infiltrate the group to find the loot. Ilda realizes that she resembles these aliens, and of her own accord goes undercover.
Her plan works to some degree, although she does wind up getting discovered. But when things go sour, she mentally contacts Star, who shows up in time to save her. He also finds the gems, hidden inside a fake tree. A convenient storm helped reveal the tree, the only one which did not lose its leaves.
Ilda gets another major role in the Star Hawkins story in Strange Adventures 119. Ilda has been picking out winning horses as a mental exercise, and giving the results to a group of gamblers, although she has no understanding of why they are interested in her picks, which always wind up winning. They demand to know the results of the eighth race, and when Ilda demurs, insisting that she has to do them in order, they pull guns on her.
Star Hawkins does come back to the office. He smells their cigarettes, figures that something is up, and leaves, only to burst back in shortly. He rousts the gamblers, who conveniently happen to also be the counterfeiters that he is actually on the case of. But really, in this and the previous tale, Star Hawkins feels like Ilda's sidekick. As well, there is little to this story that is sci-fi, just a few touches on top of what is otherwise a straight out detective story. But it works.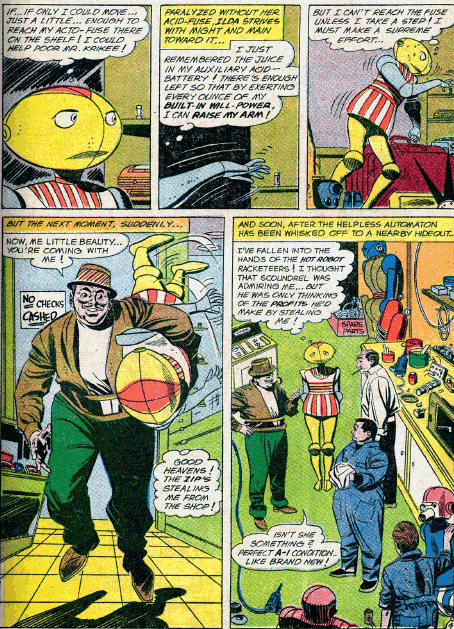 The Star Hawkins series did tend towards repetition. In Strange Adventures 125 Star is once again broke, and sends Ilda off to the pawn shop. Considering that Ilda has shown herself loyal, intelligent and resourceful, sending her to the pawn shop seems increasingly horrific every time Star does it. And this time things do not go well for Ilda at all. She gets purchased by some criminals, called "zips" in this series. The bad guys do not realize that they have bought a robot belonging to Star Hawkins, who is on the case of robot smugglers.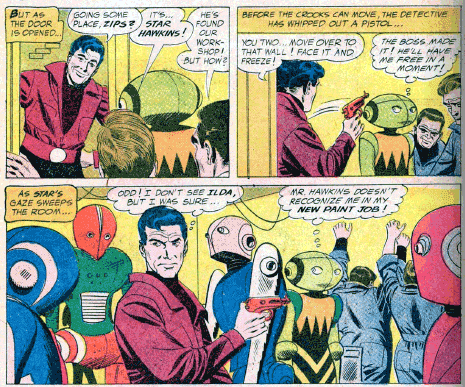 They file off Ilda's serial number, and re-paint her, planning to ship her to another planet and sell her at a high price. Ilda manages to make a phone call, and although the zips have de-activated her speaking function, she makes typing sounds, which is enough to alert Star. It's one of the few times Star seems to possess any serious deductive skills. He tracks the call, and attacks the smugglers, but even he has a hard time spotting Ilda in her new paint job. I swear I lose more and more respect for Star Hawkins with each of his stories.
Star Hawkins' case in Strange Adventures 137 involves a criminal robot. It absolutely infuriates Ilda. The robot is from the same batch as she is, so she takes his actions personally. Though Star does not want her to take an active role in the case, she follows him as he tracks the criminal gang to their base. The robot isn't making any friends among the bad guys, either, demanding to be their leader.
Ilda arrives as Star is in a shootout with the bad guys, and in an act of sheer cowardice, Star uses Ilda as a shield. Fortunately, he is a good enough shot to disarm the bad guys before they can blast Ilda to pieces. Ilda examines the evil robot, and determines that he simply has a screw loose in his brain. Wish she would examine her boss.
Ilda gets her notice in Strange Adventures 140. Star gets called on by the government to take on a very hush-hush mission, to find the missing envoy from Mercury. But Ilda remains the focus, as she gets a notice from her manufacturer that her period of usefulness has expired, and she is ordered to the junkyard. No wonder she had been trying to save up money for the old robots home! Ilda obeys the order, and heads to the junkyard.
Wouldn't you know it, that's where the missing envoy is being held by his captors, the leader of whom is scientist who wants to turn him into gold. Because Mercurians are actually made of mercury. Ilda tries to get a message to Star, although she winds up shorting herself out in the process. But the message did get through, and Star Hawkins showed up in time to save the envoy. For all ehr good work, Ilda gets a ten year reprieve on being junked. Hope she saves up enough for the retirement home by then!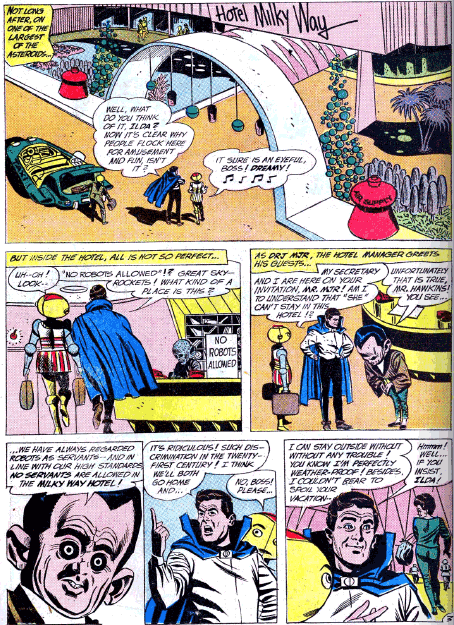 The Star Hawkins story in Strange Adventures 143 raises the issue of discrimination. Star Hawkins is on the case of bombers destroying asteroids, in a belt of them that have become a major tourist destination. Star decides to do the mission somewhat undercover, as a guest at one of the resorts. But as Star tries to check in, the resort informs him that robots are not allowed. The are equated with servants, and the hotel is too high class of servants. That doesn't really make a lot of sense. But the use of the word servants, in 1962, would almost certainly have made readers think of black servants.
Star does start to stick up for Ilda, but she insists that she is fine being left out. Still, the art denies this, with the scene of her sitting off to the side while the hotel guests party. Ilda puts her time to good use, figuring out why the bombers are attacking the asteroids, and even tracks them down. There are some funny visuals, as Ilda winds up frozen in position with the detonator. Star defeats the bad guys, and points out Ilda's importance in breaking the case, and saving the hotel. The hotel reverses its policy against robots. It would be so easy to re-tell this story with a black character in Ilda's role.
Star Hawkins continues in the next period, 1964 – 1967: the New Look.
Star Hawkins: Strange Adventures 114, 116, 119, 122, 125, 128, 131, 134, 137, 140, 143, 146, 149, 152, 155, 158, 162 (Mar 60, May 60, Aug 60, Nov 60, Feb 61, May 61, Aug 61, Nov 61, Feb 62, May 62, Aug 62, Nov 62, Feb 63, May 63, Aug 63, Nov 63, Mar 64)
Next up – Kid Flash!
Support this writer on Patreon
Last Updated: Jun 26, 2018 - 9:28