Spit #1 Comic
By Hervé St-Louis
February 18, 2019 - 09:00
Archives RSS Feed Next Comic » Latest Comic »»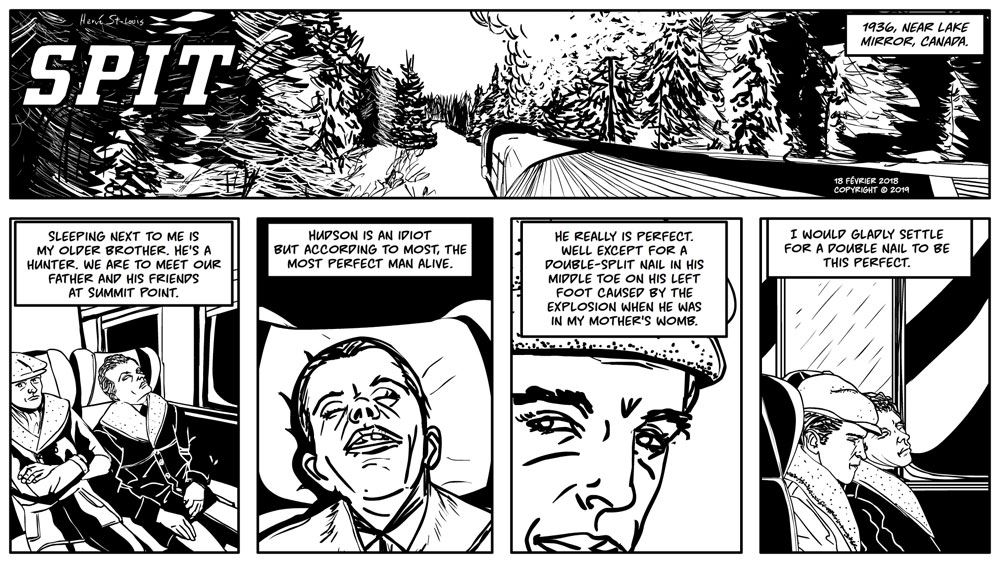 Archives RSS Feed Next Comic » Latest Comic »»

Written by : Hervé St-Louis
Pencilled by : Hervé St-Louis
Inked by : Hervé St-Louis
Letterered by : Hervé St-Louis

This is Spit. It's my new comic. It's a different story again that bucks the trend of what people do in comics. Just to assuage your fears, just like
Johnny Bulle
t, there are no vampires, no aliens, no super heroes, no mystical elements (at least for now), no talking animals (well I may change that too later). I'm creating a human story.
I hope that although this is not a genre-like comic that you will follow along. Just like
Johnny Bullet
, I will attempt to post one page per week. I was supposed to work on
The German Cousin
comic but it wasn't getting out of my system. This one, much like
Johnny Bullet
came to me as a concept easily during the holidays. I started working on it right away.
It still took me over a month to complete the first page. I've lost my speed and thrust from when I was drawing
Johnny Bullet
weekly, religiously. There has been many changes in my life - positive of course, so I'm still adjusting and working a bit more than before. Life as a new university professor overwhelms your senses. That's all I have been able to think about and had to make a great effort to work on Spit.
Spit is another one of those stories that I just want to tell and will selfishly create for myself. It draws from much of the modern literature that invaded my teenaged years and young adulthood. Superficially, I've thought about it a bit more than
Johnny Bullet
but I don't even know what will happen exactly in strip #10, let alone strip #3.
I am using the comic strip format again. I am comfortable with this format.
The German Cousin
was using the comic book format and I was stuck. It seems that after years of making comic strip stories, I cannot transition as easily into comic books. Spit is a story that can easily be told as a comic strip, unlike
The German Cousin
. Perhaps comic strip-formatted stories is what I'm good at and will be known for!
Cheers
Hervé

Last Updated: May 18, 2020 - 11:53
Join the discussion: