DC Comics History: Space Ranger (1960 - 1964: the Silver Age)
By Deejay Dayton
Jun 11, 2017 - 8:55
Space Ranger held the cover feature in Tales of the Unexpected throughout the period 1960 – 1964: the Silver Age. Never my favourite series, Ric Starr did wind up gaining a recurring villain in between fighting silly looking aliens in his future world.
Bob Brown was now drawing the Space Ranger tales, but keeping to the very cartoony style already established by Jim Mooney. Space Ranger spends almost every story dealing with some sort of alien monster. Tales of the Unexpected 51 alters that a bit. Cryll gets captured by Norvo, a thief Space Ranger is pursuing, and gets amnesia as well.
Norvo convinces Cryll that Space Ranger is his enemy, so the two partners wind up fighting it out for much of the story. Another blow to the head restores Cryll's memory, and he helps Space Ranger capture Norvo.
The Space Ranger story in Tales of the Unexpected 56 looks like it will be an exciting change of pace, with Myra Mason pictured on the cover with super-powers. Myra rarely gets to do much of anything in Space Ranger stories. While out with Cryll, Myra gets hit by reflected lightning, and for no clear reason this endows her with super-powers.
She uses them to aid Space Ranger. Myra even risks her life to save him, and does. But her powers then just wear off. The end. That was barely a story. Probably the least creative gaining powers story one could come up with.
Myra Mason gets a better role, a chance to play the villain, in the Space Ranger tale in Tales of the Unexpected 80. Space Ranger, Cryll and Myra are visiting an alien world and suffer extreme reactions to a local plant. It makes Cryll change his form uncontrollably, and gives Space Ranger a degree of telekinetic powers. But what the story deals with are the effects on Myra.
It turns her evil, and she becomes the queen of the local dominant species, the Cat-Men. All she wants to do in this guise is capture and kill Space Ranger.
He uses his mental powers, just before they fade, to blast her mind and restore her identity. Shame, she was way more interesting as Queen of the Cat-Men.
We get some backstory on Cryll in Tales of the Unexpected 75. A weird creature comes to attack Earth, and displays shape changing powers similar to Cryll. In fact, it even kidnaps and replaces Cryll, who has recognized it as another creature from his world. Drexyll is a wanted felon, and used Cryll's experimental method of teleportation to come to Earth. We find out that Cryll was the assistant to the scientist working on the teleportation device, but it exploded, killing the scientist and sending Cryll to Earth.
Drexyll had no idea if his version of the machine would kill him or transport him, but was in too dire a situation to care. Once all that is out of the way, the story becomes a battle between Cryll and Drexyll, each changing to defeat whatever creature the other becomes. Cryll wins by dropping a big rock on Drexyll's head before he can make another change. This was a foe who could easily have made a return, but sadly didn't.
Space Ranger gets his first recurring villain in Tales of the Unexpected 66, Dr. Elektro. Elektro is a master scientist, who uses his inventions to pull off impressive thefts. He steals entire cargo ships while they are travelling in space. Space Ranger goes undercover to figure out how he does this, and learns that Elektro has perfected an invisibility cloak for his own ship.
Elektro proves far more difficult for Space Ranger to capture than any of his previous foes. Even when he tracks Elektro to the planet he operates from, it takes Space Ranger a while to find his hidden lair. He then gets captured by Elektro and turned into pure energy. So it is Cryll and Myra Mason who save the day, following Space Ranger's trail and forcing Elektro to change Space Ranger back to normal.
The Space Ranger story in Tales of the Unexpected 78 has Elektro on a different planet, inventing things that he hopes will benefit the people, but which turn disastrous. Space Ranger believes that Elektro is only doing this to try to become famous. But if you're inventing something to help the world, does that really matter? At any rate, it turns out Elektro isn't even really doing the inventing. He has a machine that creates duplicates of other scientists, who do the work for him.
When Space Ranger finds out, Dr. Elektro uses the machine to create a bunch of duplicate Space Rangers to fight him, and later duplicates of himself to try to get away. Space Ranger prevails, and comments that if Elektro had just showed everyone his duplicating machine, he would have gained the fame he desired.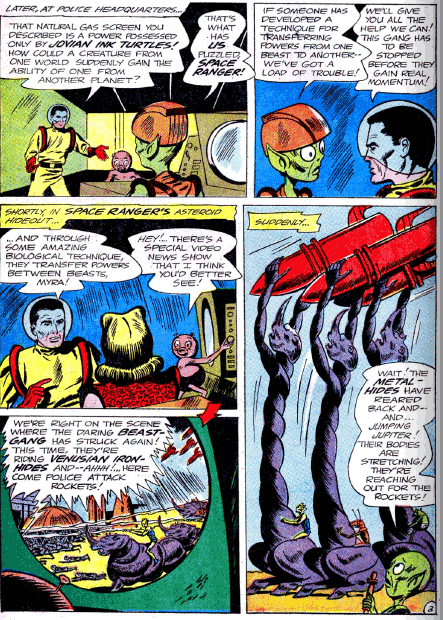 Space Ranger's series in Tales of the Unexpected come to an end with the story in issue 82. The story begins as giant bats block out the sky. They are being controlled by the Beast Gang. As Space Ranger battles the group, he notices that the beasts they use display abilities belonging to other animals. Space Ranger gets captured, and discovers that the Beast Gang is being lead by his old foe, Dr. Elektro. Elektro now has a machine capable of drawing skills and memories from a subject and transferring them to others. He removes Space Ranger's scientific knowledge, navigation skills and reflexes, giving those traits to three beasts, who he then sicks on Ric Starr. But even without his honed skills Space Ranger is able to get the better of each of the beasts, and draw his powers back to himself.
The story ends with the announcement that the Space Ranger series will be moving over to the pages of Mystery in Space.
Space Ranger continues in the next period, 1964 – 1967: the New Look.
Space Ranger: Tales of the Unexpected 46 - 82 (Feb 60 – April/May 64)
Next up – Adam Strange!
Support this writer on Patreon
Last Updated: Jun 26, 2018 - 9:28