DC Comics History: Space Ranger
By Deejay Dayton
Apr 28, 2017 - 9:06
Space Ranger is not my favourite science fiction series from the period 1955 – 1959: Dawn of the Silver Age, not by a long shot. Still, there must be some people who look back fondly on the futuristic adventures of Ric Starr, as the character was mentioned in an episode of Legends of Tomorrow.
Space Ranger debuted in Showcase 15 in two stories, both by Gardner Fox, Edmond Hamilton and Bob Brown. With two excellent writers you'd think they would have come up with a better series. Still, the Space Ranger adventures in Showcase are better than those that would appear in Tales of the Unexpected or Mystery in Space. When we meet Ric Starr, the son of the wealthy and oblivious head of Allied Solar Enterprises, he is already acting as Space Ranger, with his secretary Myra Mason in on the secret. His father believes Ric is just working his way up in the company.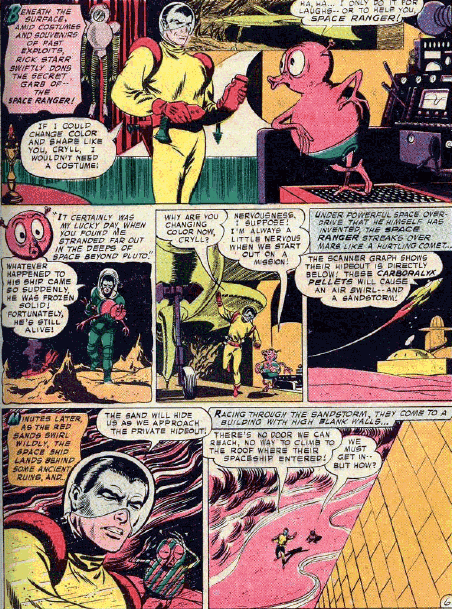 After a series of plutonium thefts, Ric boards a deluxe space liner, hoping it gets hijacked and robbed. It does, and he is able to plant some traceable plutonium in with the stuff the thieves get. Then he heads to his asteroid base, and hooks up with Cryll. There is only a little backstory given here, of Space Ranger finding an injured Cryll and taking him in. Cryll is able to change his shape and colour, but in these tales does function a bit more as a back-up for Space Ranger. Space Ranger trails the thieves, but gets captured by them. Cryll frees the hero, and they round up the pirates.
The second story in the issue involves a planet sending out rays that cause other worlds to get pulled into their suns. It's one of those plans that makes one wonder how they ever expected no one to notice. But then, it's evil robots who are behind it all, and a super-computer brain. Not a very smart one, apparently.
Space Ranger traces the rays and heads to the robot world. He finds the subjected human inhabitants of the planet, and learns how the robots took over. But with Space Ranger and Cryll on the case, the evil robots are defeated and humans are put back in charge.
There are two more Space Ranger stories in his second and final tryout issue, Showcase 16. The first story is one of the character's best, and begins with a suitably bizarre space monster. Space Ranger determines that the monster is an illusion, and heads to the planet the image was sent from. There he winds up right in the middle of a civil war. Cryll uses his shape changing powers to get Space Ranger in and out of a number of situations.
In many ways it isn't too different from his later tales, but the shift from it being about a monster to being about a war works well, and for once the weird looking alien stuff is not so cartoony as to turn me off completely. Still, though I said I thought this was his best story, it's not like I'm saying it's a great story.
The second tale begins with thefts from the Space Museum on Earth. This may as well be the same Space Museum that has its own series in Strange Adventures. Why not? Myra Mason actually gets to have witnessed the crimes and relates it, giving her at least something to do in the tale.
Space Ranger and Cryll chase the thieves through the solar system, confronting them on Mercury, where they are trying to open the Space Sphinx and steal its treasures.
Space Ranger begins as a regular feature in Tales of the Unexpected 40, almost a year after his introduction in Showcase. Arnold Drake and Jim Mooney helm this series now. In this outing, they go after an evil Martian scientist plotting to blow up his own world.
I don't enjoy Space Ranger. I just don't like Mooney's art, and the plots are pretty basic. The enjoyment is meant to lie in seeing the aliens and their worlds, but for me Mooney's stuff is all too harmless and cartoony.
In Tales of the Unexpected 41 Space Ranger, along with Cryll, pursue a couple of bad aliens from world to world in this story. The aliens are digging up powerful machines from the past. That's still from our future, because Space Ranger is set in the 22nd century. I keep forgetting to mention that.
Anyway, some other aliens show up at the end, but these are good ones, the police force from their homeworld, who help round up the bad ones. These stories are so forgettable.
The Space Ranger story in Tales of the Unexpected 42 is better than the previous two in this book. It's not great, but definitely better. Some thieves have stolen a radioactivity machine, a device far more deadly than the criminals realize, because it has to operated according to really specific instructions, or it will just kill everyone. Because they have no leads, Space Ranger publicly dons a legendary helmet, meant to increase one's mental powers. And indeed, after he wears it, he causes things to levitate.
But it's really all a hoax, to get the bandits to think he is more powerful than he is. The helmet did nothing, it was Cryll taking the form of an invisible bird. And it's Cryll who saves the day at the end as well, changing into an animal that eats the controls of the machine.
Space Ranger gets the cover of Tales of the Unexpected 43, and a very nice cover it is. The story also gives Space Ranger a really evil villain to deal with.
The man, Solan of Titan, steals really valuable books and treasures for the sole purpose of destroying them. And he goes for objects of national, historical importance. That's just super mean. Space Ranger leads the forces opposed to the guy, but fails repeatedly to stop him.
It's Myra who makes a comment about having a copy that gives Ric the idea to decoy the villain with a fake. Sad that no one else thought of it before that point. Cryll becomes a giant beast for the big fight.
Space Ranger continues in the next period, 1960 – 1964: the Silver Age.
Space Ranger: Showcase 15 - 16 (July/Aug – Sept/Oct 58)
Tales of the Unexpected 40 – 45 (Aug 59 – Jan 60)
Next up – Adam Strange!
Support this writer on Patreon
Last Updated: Jun 26, 2018 - 9:28