Retro Review: Never Say Never Again
By Philip Schweier
March 29, 2013 - 21:16
In 1983, Sean Connery returned to the role that made him famous, that of famed British spy James Bond, 007. But to understand the why and how, it helps to know the background.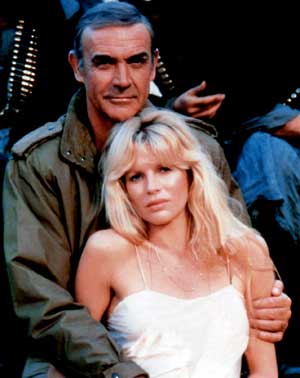 Sean Connery and Kim Basinger in Never Say Never Again

According to various sources, Bond creator Ian Fleming, Kevin McClory and Jack Whittingham collaborated on an original story and screenplay for what would have been the very first 007 film, entitled James Bond, Secret Agent. McClory reportedly wanted Richard Burton to play James Bond. The movie was never made, so Fleming applied elements of the story to his novel Thunderball. This led to legal action on the part of McClory, which was later settled out of court. McClory received credit as a co-producer of the film Thunderball (1965), and managed to retain certain rights to the story overall.

In the early 1980s, after 12 years, Connery was lured back into harness as James Bond in McClory's remake of Thunderball, despite the ongoing "official" James Bond franchise starring Roger Moore. Never Say Never Again competed directly with Octopussy for box office domination, with Moore's film coming out the clear winner.

Never Say Never Again's screenplay was written by Lorenzo Semple Jr., perhaps best remembered as writing many of the scripts for the 1960s Batman TV show. His film career continued with more questionable fare such as King Kong (1976), Flash Gordon (1980) and Sheena, Queen of the Jungle (1984). His work sometimes blurs the line between humor and camp, and Never Say Never Again is no exception. Some of the writing is witty but the film has a self-awareness that suggests Sean Connery playing Sean Connery playing James Bond.

However, from a writing point of view, Never Say Never Again attempted to fix what was perhaps Thunderball's biggest weakness. Thunderball adhered more closely to Fleming's novel, in which extended underwater scenes can be depicted fairly easily. But on film, endless footage of men in scuba gear plumbing the murky depths can be tiresome, especially with the hero's and the villain's faces hidden behind face masks.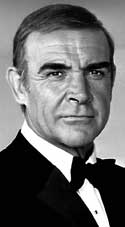 A craggy-looking Connery

As a result, Never Say Never Again's climax takes place in caverns accessible by an underground river. But there the superiority ends. Not even Connery can elevate the film's standing beyond footnote in the cinematic history of James Bond. Sean Connery appears craggy as Bond, to the point where his face has the appearance of a Mad Magazine caricature.

Connery's leading lady was Kim Basinger, an attractive blonde with still-developing talent. In opposition was Klaus Maria Brandauer as Maximillian Largo, a serviceable villain, and Barbara Carrera as his henchwoman Fatima Blush.

A cliché of 1980s action movies is the boss who is constantly berating the hero(es) for not following the rules. We've seen in such films as 48 Hours, Running Scared and the Lethal Weapon franchise. To see Edward Fox as M pull it off with a more British panache makes for a nice variation, but it's still a cliché that only looks funny by today's standards.

For actual comedy relief, Rowan Atkinson (Black Adder, Mr. Bean) makes an appearance as a low-level diplomatic attaché in his film debut.

But to refer to the film as an '80s movie is somewhat inaccurate. Granted, it was filmed in released in the 1980s, but watching it one might think it came out around 1978. The production has an out-dated feel to it. It's as if the producers told one another, "This is what the movie audience likes these days," not realizing they were about five or six years behind the curve.

For instance, Kim Basinger's character, Domino, has a dance studio aboard Largo's yacht, where she works out to dance music with more of a disco beat. Were it not for the leg warmers, it's easy to imagine her woefully behind the times.

As in all Bond films, there is the inevitable encounter between Bond and Largo over a game in which Bond comes perilously close to losing. Again, because it was the '80s, producers created a video game in place of the usual baccarat or other casino game. But the computer graphics and sounds all have the dated late-'70s touch, including a computer voice taken directly from the original Battlestar Galactica.

I once believed the original James Bond films starring Sean Connery to be hopelessly dated, until a friend suggested that I should regard them as period pieces, intentionally set in the 1960s. That improved my general opinion enormously, but in the case of Never Say Never Again, it's still an '80s movie set in the 1970s.
Last Updated: May 19, 2020 - 12:25