DC Comics History: Mark Merlin
By Deejay Dayton
May 8, 2017 - 09:55
Mark Merlin made his debut in the pages of House of Secrets during the period 1955 – 1959: Dawn of the Silver Age. Like Dr. Thirteen, Mark was an investigator into supernatural events, but unlike his predecessor, would often have to deal with magical menaces, alongside his assistant, Elsa Magusson.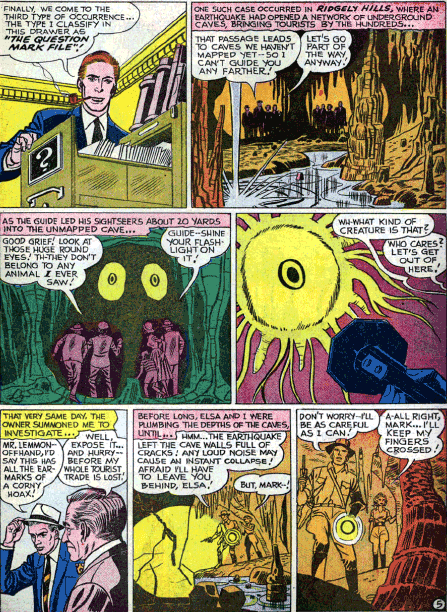 Mark Merlin makes his debut in House of Secrets 23 in a story by Bob Haney and Mort Meskin. The first story spends it time showing that Mark usually disproves that which people come to him about. Mark addresses the reader directly as he gives examples of natural phenomena and hoaxes that have been taken to be supernatural events, and how he explained/exposed them. But then we find out about his "question mark" file, reserved for things that defy explanation. Mark relates a story about finding a colony of giant single celled creatures deep in an unexplored cave. The fact that Mark begins his story (and run) by dealing with an actual supernatural creature is meant to make us believe his other adventures all the more.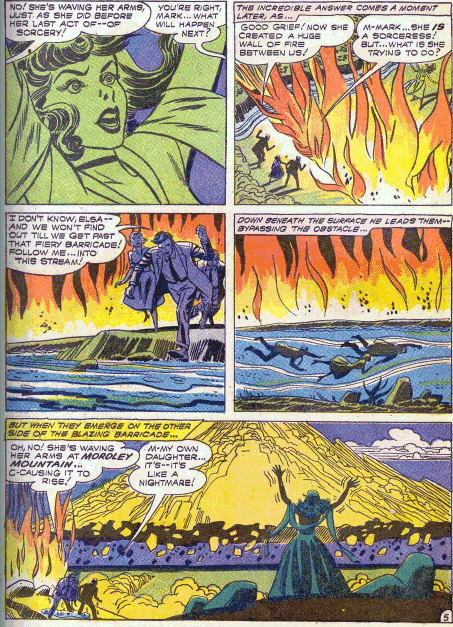 In House of Secrets 24 Mark Merlin and Elsa Magusson are just about to take off for a picnic when a man comes to see them, convinced that his daughter has become a witch, through some sort of possession. Mark goes to investigate, and the woman does indeed possess powers, capable of lifting and shattering an entire mountain.
But it turns out that aliens are manipulating her, using her to open a dimensional rift so that they can invade Earth. Mark gets rid of them using chemical warfare, although this happens very quickly, and without much explanation.
Mark Merlin becomes the cover feature for House of Secrets with issue 25. In this story Mark and Elsa take to the high seas after repeated reports of sea monsters attacking ships. Curiously, the only thing that the sea monsters are doing is stealing the anchors from the ships. Mark goes deep sea diving, and finds a huge mountain under the water, and a pile of anchors near it.
Mark and the owner of the ships are planning to kill the sea monsters with depth charges, but the creatures contact him telepathically, and explain how they were trying to prevent a deadly gas eruption from the mountain.
Mark helps release the pressure from the mountain, and lets the sea monsters go in peace.
Mark Merlin continues in the next period, 1960 – 1964: the Silver Age.
Mark Merlin: House of Secrets 23 – 28 (Aug 59 – Jan 60)
Next up – Suicide Squad!
Last Updated: May 19, 2020 - 12:25