DC Comics History: Mademoiselle Marie
By Deejay Dayton
May 7, 2017 - 11:13
Mademoiselle Marie was another one of DC's earliest war series, debuting during the period 1955 – 1959: Dawn of the Silver Age, as the cover feature for Star Spangled War Stories. A fighter with the French Resistance during World War 2, Marie was the first female character to be given an ongoing war series. For the most part, her stories avoided the general sexism of the time, and she remains the most important female character in DC's war books.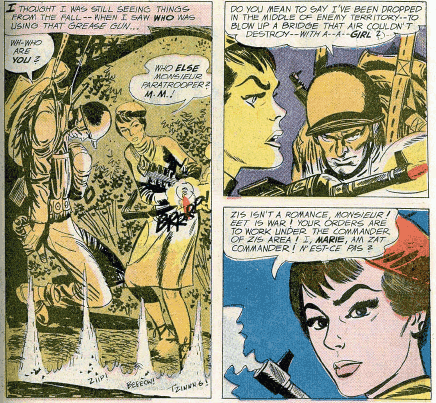 Mademoiselle Marie debuted in Star Spangled War Stories 84, created by Robert Kanigher and Jerry Grandenetti. Her first story is told largely from the point of view of an American soldier, dropped in by parachute to perform a mission with her. He immediately dismisses her as just a girl, but she will have none of that, and accompanies him through the battlefield. He doesn't want a girl to do his shooting for him, and later risks his life to blow up a Nazi tank, but Marie is just irritated by his behaviour, refusing to accept her help or take her seriously.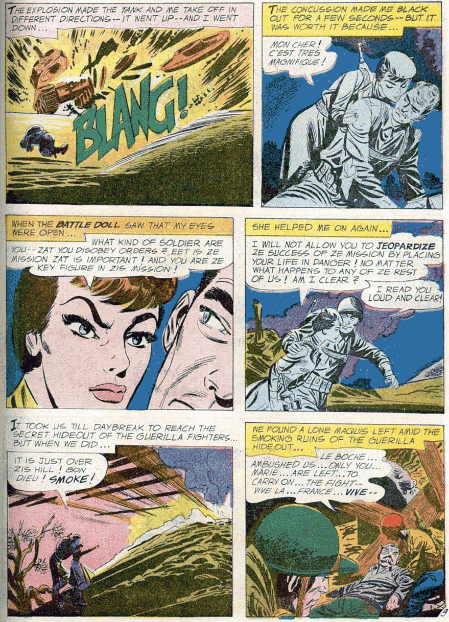 When they reach a Resistance base, and find a critically wounded old man, Marie shows some emotion. Later, she says that this was her father. The man appears to die in the story, but as Marie's father shows up in later stories, he must have just been badly wounded. Their mission is to blow up a bridge. The American dives down to plant the bomb, which Marie sets off. At this point Marie seems to show a bit more compassion, holding off in fear that the American is too close to the bridge to survive.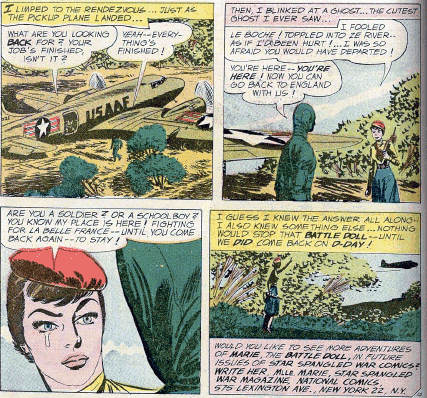 At the end, their mission a success, the American expects that his pick up will also be bringing Marie with them, to (relative) safety in England. But although she is crying (maybe about her dad?) Marie has no intention of leaving France. She will keep fighting until the Nazis are gone. It's not a bad story. Not a really great one. Mademoiselle Marie will become a much colder and harder person as the years pass, but the core of her character is already there. The final panel asks the readers to respond if they want to see more of her, but she appears in the next issue anyway, so clearly they had decided to give her a run no matter what.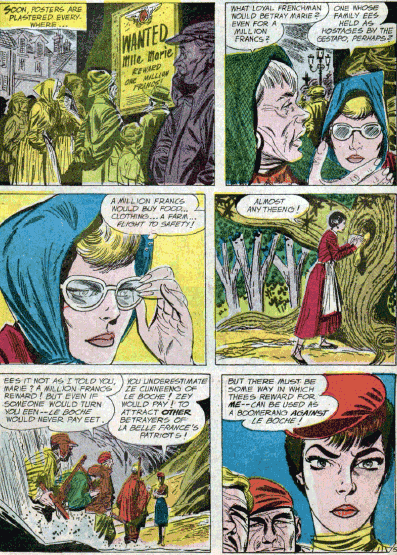 By her second story, in issue 85, Mademoiselle Marie has already gained notoriety. Right from the start of this story the Nazis are on the lookout for her. The French woman has become a major thorn in their side, and she shows why as she lures a tank into an ambush by Resistance fighters. The Nazis put out a big bounty on Marie. So big that Marie wants other Resistance fighters to claim it. She works out a plan that they put into motion as they rescue a downed American flyer. Marie allows herself to be caught, with one of her own men turning her over to the "boche" to collect the reward.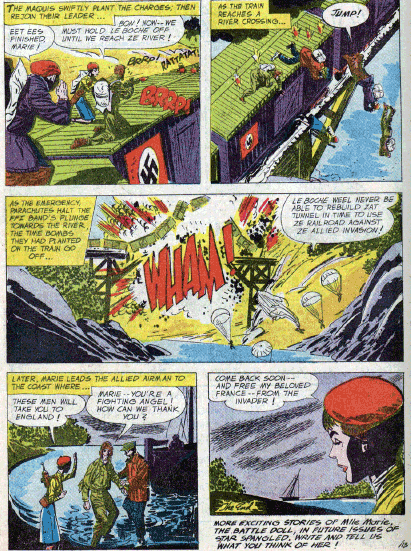 The Nazis plot to kill the man after paying him, but that was nothing less than the Resistance expected, and they get the German soldiers first, and are able to keep the bounty money. While Marie uses a tear gas capsule, hidden in a hair clip, to free her and the American flyer, and takes out the car load of Nazis herself. Then they all blow up a bridge together. Blowing up a bridge seems to equal a happy ending in a Mlle. Marie story.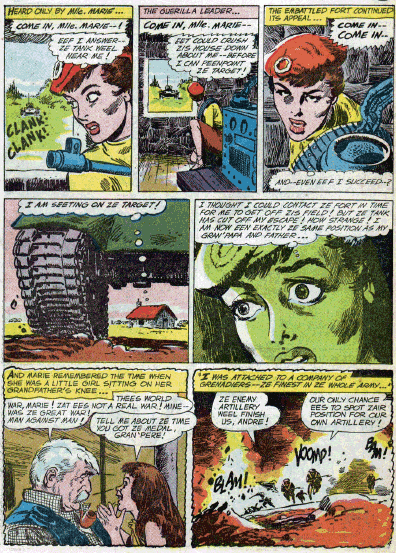 The Mademoiselle Marie tale in Star Spangled War Stories 86 contains flashbacks to the resistance fighter's childhood. Marie spends the story in a bombed out farmhouse, waiting to give a signal to an American flyer to take out a Nazi tank. While she waits for the right moment, Marie thinks back to stories she heard from her father and grandfather, about heroic acts they performed in earlier wars. The war that her grandfather talks about is not named, but must be the Franco-Prussian War. Her father's story deals with events from World War 1. But while both men reflect on the actions they took, they both agree that Marie, being a girl, will never be a soldier. But of course Marie has as much courage as either of her relatives.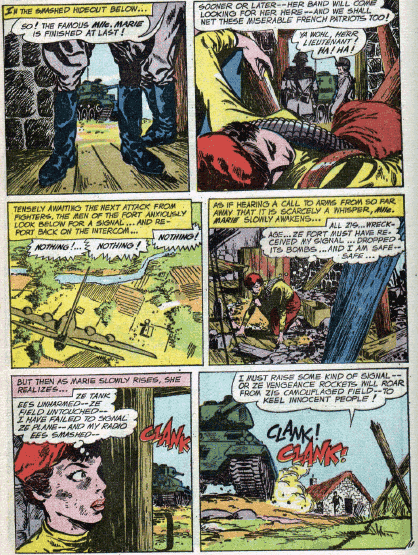 The farm she is hiding in gets hit again, and the Nazis even spot her, but she happens to be unconscious at that moment. They leave her as bait for other resistance fighters to come and get. But Marie wakes in time, and finds a way to signal the bomber, which takes out the tank. As her father and grandfather had in the past, Marie is given a medal for her actions. But while they got real ones, she gets a big flower. Which is kind of silly and insulting, but she likes it.
Mademoiselle Marie gets her first and only recurring villain in Star Spangled War Stories 87. Once again Marie is working in conjunction with Allied forces, although this time the mission for her and her resistance friends is to set up a number of diversions, to allow the Allies to pull off a reconnaissance expedition. Marie continues to be the symbol of the French resistance, and the Nazis are determined to get her. In this instance, the main Nazi, Von Ekt, dares Marie to attack a trainload of tanks, expecting to capture or kill her when she tries, and crush the spirits of the people.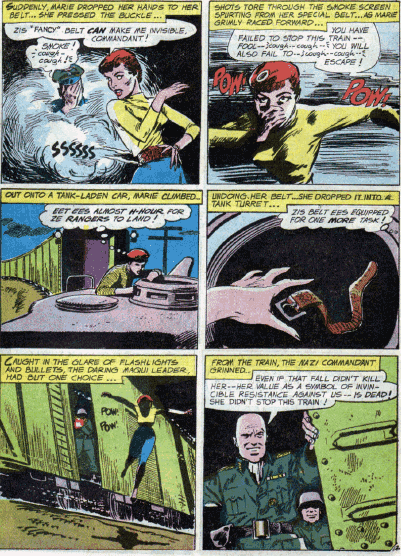 Marie does fall into the man's hands briefly, but she has a special belt that emits smoke, which allows her to escape. The belt is also rigged with bombs, so you really don't want to press the wrong button on this thing. Marie leaves the bomb belt on the train, and jumps. The Nazis think she has plunged to her death, but of course she hasn't. And they are the ones to die when the bomb goes off, blowing up the train. Von Ekt somehow survives, and returns to plague Marie in the next issue.
In Star Spangled War Stories 88 Von Ekt is operating from a distance, preparing another soldier to impersonate an American, to join with Mademoiselle Marie and her resistance fighters and lead them into a Nazi trap.
The man does pretty well with the slang, and his overall knowledge, but he also betrays a Prussian arrogance towards lower ranked soldiers, in this case one of Marie's men. This gives him away, and Marie forces the man to go into the trap himself, where he gets machine gunned by other Nazis.
The shooters having revealed their positions, Marie then takes them all out. Von Ekt is left cursing and shooting at a poster of Mademoiselle Marie.
Mademoiselle Marie continues in the next period, 1960 – 1964: the Silver Age.
Mademoiselle Marie: Star Spangled War Stories 84 – 88 (Aug 59 – Dec/Jan 59/60)
Next up – Mark Merlin!
Support this writer on Patreon
Last Updated: Jun 26, 2018 - 9:28