DC Comics History: Kid Flash
By Deejay Dayton
Jun 29, 2017 - 21:23
Kid Flash was quite a different character than Robin, Speedy or Aqualad. While the others were sidekicks to their elder partner, Wally West moved into a solo strip right after being introduced, during the period 1960 – 1964: the Silver Age. Kid Flash would continue to appear in solo stories in the pages of the Flash, on and off, until almost the end of its run. His parents would slowly be introduced into the feature, and before the period was out he would gain a new costume, though not in one of his solo stories, and have his first team up with the Elongated Man.
Flash 111 contains Kid Flash's first solo story. We find out that Wally West attends Blue Valley High School. He is probably short for his age, considering how young he looks, so I would put him at 14, may 13. This story takes place the day after his introductory tale, and when Wally wakes up in the morning he thinks his experience with the Flash was just a dream, until he starts running.
Kid Flash goes after a gang of bad kids in this story, but though the group dresses like they are tough, they vote by making caw-ing sounds, wave their arms when they run, and their big plan is to destroy another gang's clubhouse. These are just kids as well. Still, they do wind up starting a forest fire when they wreck the clubhouse. Kid Flash puts the fire out, but so quickly that the gang thinks the wind did it. On their own, they decide to stop being bad kids and take up sports.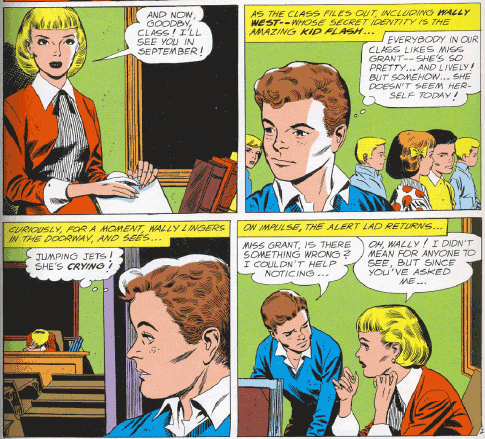 Kid Flash gets involved with reckless dune buggy drivers, as well as corrupt construction workers, in his second solo outing, in Flash 112. Wally's school is due to be torn down and rebuilt, and he notices that his teacher seems unduly upset about that. She explains how her fiance was planning to get the contract for the school, but was underbid. Kid Flash goes to see the fiance, but he is being attacked by guys on buggies. Kid Flash chases the guys off, and wonders who might be behind the attack. Well, it's the guys who undercut the contract, and are using shoddy material.
To prove this, Kid Flash trashes a gym that they built, using his super speed. To be fair, whether the construction materials were shoddy or not, Kid Flash would have been able to use his speed to destroy the gym. Once the bad guys have been caught, Kid Flash even helps build his new school.
Wally West fixes up more of his teacher's problems in Flash 114. The teacher accuses one of her students of cheating on an exam, punishing him and publicly humiliating him before figuring out that it was actually her own mistake all along. The boy runs away from home, and Kid Flash races to the city to find him. The kid had gone off to live with his cousin, who is a thief, part of a gang who pass themselves off as beatniks.
It's an unintentionally humourous tale for the horrible depiction of beatniks - although as they are only pretending to be so, I guess it's excusable. Kid Flash prevents them from actually stealing anything, and then rushes them all off to the police before bringing the boy back home.
The Kid Flash story in issue 116 has Wally and his father enter a road rally contest together. Wally West is being teased by his friends about his interest in a girl from town, Kitty. Kitty's horse runs out of control, and he comes to her aid as Kid Flash. We do get the sense that Wally is interested in Kitty, but we won't see her again.
Thieves try to steal the West's car, and Wally goes into action as Kid Flash and captures the bad guys and frees his father, while maintaining his secret identity. This is the first appearance of Wally West's father. He will appear occasionally over the years, but not really get development until the late 80s, once Wally has become the Flash.
Flash 133 contains the first story to show Wally West's mother. Creepily, she is only shown from behind. The story centres on a present Wally received, the see no evil, hear no evil, speak no evil monkeys. This corresponds to three disadvantaged kids Wally came into contact with at camp. One is blind, one is mute, and one is deaf.
The heightened perception they have with their other senses has revealed to them that Wally is really Kid Flash. They send him the gift to show him that they will never reveal his secret. Clearly they don't. We never ever hear from any of them again. It's almost suspicious.
Kid Flash and the Elongated Man join forces to battle the Weather Wizard in Flash 130, in a story that would have been better if the villain's identity had not been revealed on the splash page. The Flash comes to visit Wally West, and explains to him that he and Iris are going to be taking a trip to Coast City, a reference to his appearance in the next issue of Green Lantern. Barry suggests that Wally head out to join the Elongated Man on a mystery he has stumbled across. A rural county has been sealed off from the land around it by a massive freak snowstorm.
None of the three heroes instantly think of Weather Wizard, though of course the reader knows who is behind it. To be fair, though, this is only the second appearance of Weather Wizard, so he wouldn't be the immediate go to.
Once Ralph and Wally learn about the Wizard's plan, blackmailing the town to thaw them out, they confront the villain and take him down as a duo. Pretty straightforward, but fun enough.
The Kid Flash story in Flash 138 introduces Dexter Myles, an aging actor, now down on his luck. This is the first Kid Flash solo story after he gets his distinctive new costume. Wally first meets the man when Blue Valley holds a parade to honour him. Myles passes out into the street and Kid Flash has to race to save him from being run over. Wally's parents are finally shown together for the first time. They recall Dexter Myles in his glory days. Apparently he was a success both in stage and screen, which makes one wonder why he is now in a small town. Some thieves come up with a fairly clever plan, using Dexter to declaim Shakespeare in the town square, which is illegal (Blue Valley does not encourage public theatre, it seems).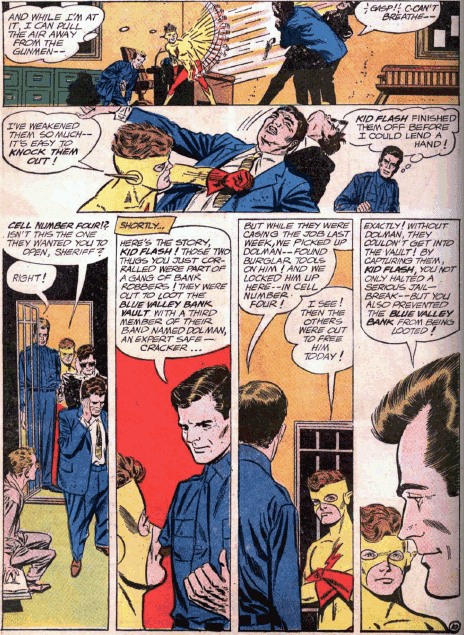 Kid Flash figures that they are using the actor to lure the police so they can bust a confederate out of prison, but he puts a stop to that. The publicity redounds well on Dexter, who winds up with a new series of shows. It would take Dexter Myles a while to return, but he would wind up a regular supporting character in the Flash series itself by the 1970s.
Kid Flash continues in the next period, 1964 – 1967: the New Look.
Kid Flash: Flash 111 – 112, 114, 116, 118, 122, 127, 130, 133, 138 (Feb/Mar – April/May 60, Aug 60, Nov 60, Feb 61, Aug 61, Mar 62, Aug 62, Dec 62, Aug 63)
Next up – the War That Time Forgot!
Support this writer on Patreon
Last Updated: Jun 26, 2018 - 9:28