Webcomics / Johnny Bullet Comic
Johnny Bullet #49 Comic
By Hervé St-Louis
November 16, 2015 - 22:17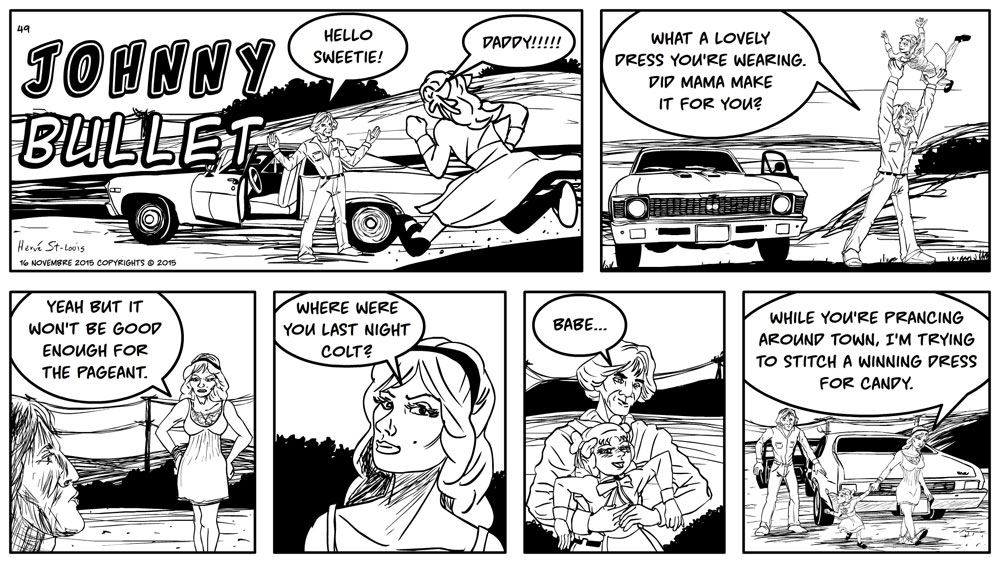 Subscribe to Johnny Bullet through RSS
Patreon


Subscribe to the Johnny Bullet Newsletter
Email me!
Written by : Hervé St-Louis
Pencilled by : Hervé St-Louis
Inked by : Hervé St-Louis
Letterered by : Hervé St-Louis

Apologies for the comments appearing five days after the comic. I've been drawing like crazy the last few weeks and I guess I have little to say when I draw so much. I just completed another Johnny Bullet bonus page. It's the third one I've drawn and this one comes right after I produced one less than a week ago. It's my best page so far. It's beautiful.
I have to say thank you to Kevin and Anthony, my first Patreon supporters. I won't let you down. You too can become one of my Patreon supporter and see the third bonus page that I've produced. Why am I continually asking for money from you? Because it helps me. Most of us are non longer used to supporting the creators that entertain us. Patreon helps guys like me who create art our of pure passion to stay afloat.
You can see the
third Johnny Bullet bonus page here
. It is a prequel that appears just before the first episode.
See you on Sunday!
Cheers
Last Updated: August 4, 2023 - 09:22
Join the discussion: