Comics / Comic Reviews / DC Comics
Review: Harley Quinn #16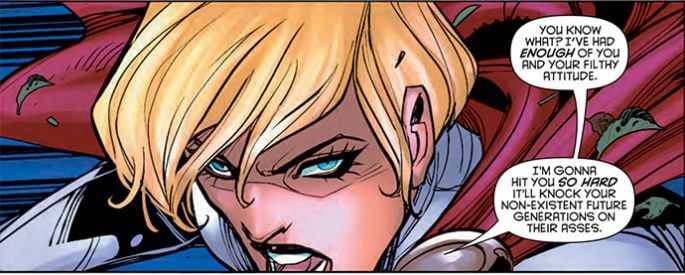 By Philip Schweier
Mar 15, 2017 - 7:38
Zorcrom may have met his match in the form of special guest-star Power Girl. But is it a match made in heaven or hell? That's for Harley Quinn to figure out.
As night falls on New York City and Zorcrom's solar powers begin to fade, Harley, PG and Atlee come up with a genius plan to drain him. But there still remains the matter of what to do with him if/when he's defeated.
Meanwhile, in the future – yeah, I know that makes no sense. But it's a Harley book, just go with it – time travel is very real, and one lucky Gothamite has won the grand prize: a trip to the past to meat Batman. But perhaps there's more to that agenda than most people realize.
John Timms' artwork is wonderful, as always, though it's possible he's in need of a rest. Joseph Micheal Linsner is the artist on deck for the future sequences, so I expect he'll be stepping into the spotlight in the very near future.

And next issue promises the return of – well, that would be telling. Let's just say it's someone as critical to Harley as her former beloved Mr. J.
Last Updated: Dec 19, 2017 - 22:52