DC Comics History: Faceless Hunters from Saturn
By Deejay Dayton
Jul 10, 2017 - 10:51
Ok, I have to admit that the Faceless Hunters from Saturn never really had an ongoing series. They did appear in three issues of Strange Adventures during the period 1960 – 1964: the Silver Age, though. The first story, simply titled The Face Hunter from Saturn, was intended as a simple, one-shot tale. It would be popular enough to spawn a few more tales, and eventually the characters would become known as the Faceless Hunters from Saturn, and return periodically over the years.
Strange Adventures 124 contains the original story, The Face Hunter from Saturn, by Gardner Fox, Mike Sekowsky and Murphy Anderson. The tale begins as aliens come to Earth and begin destroying various monuments and carvings that depict human faces.
The alien behind this, Klee Pan, explains that his destructive actions are actually benevolent. An evil faceless man from his planet, Chan Yull, had planted a bomb in a face carved on Earth, a bomb able to teleport back to Saturn, so it could destroy either planet. Chan Yull tried to use this to blackmail his way into power on Saturn, but Klee Pan has come to find and destroy the bomb, saving both worlds.
Klee Pan also explains how the Saturnians slowly evolved to lose their facial features, as they no longer needed them, as their brains developed to telepathically duplicate various senses.
At the end of the story, Klee Pan and the humans figure out that the carved face is the face of the Man in the Moon, although the story calls it the Lady in the Moon. Klee Pan destroys the bomb, and heads back to Saturn.
The Face Hunters from Saturn, Klee Pan and Chun Yull, return in Strange Adventures 142. The story also brings back Jim and Bob, the two policemen who interacted with Klee Pan. They discover that Klee Pan has made them telepathic, as a thank you present, it seems, upon his departure for Saturn. So when they think Klee Pan has returned to Earth, they rush out to meet him.
But it turns out that this is Chun Yull, the villain from the previous tale. Faceless Hunters from Saturn all look alike. Chun Yull uses his powers to paralyze the policemen, and then sets out to take vengeance on Earth, blaming the people of the world for messing up his plans to conquer Saturn. Klee Pan shows up eventually as well, determined to stop Chun Yull again.
They trick Chun Yull, by faking an explosion, and then shrink him down with weapons provided by Klee Pan. Jim and Bob decide to keep their telepathic powers a secret, which will doubtlessly aid them immensely in their police work.
The Faceless Hunters from Saturn make their final appearance during this period in Strange Adventures 153. The story opens on Jim and Bob, the telepathic policemen. They find themselves compelled to create a machine, which transports Chun Yull to Earth, and makes him grow. There is a strange sequence in which a giant Chun Yull demands to be made a citizen of Earth, as this is a prerequisite for destroying the planet. This blatantly contradicts his previous attempts to destroy Earth. But whatever. Once he is a citizen, he openly announces his plan to transport his home planet to Earth, and have the two worlds destroy each other.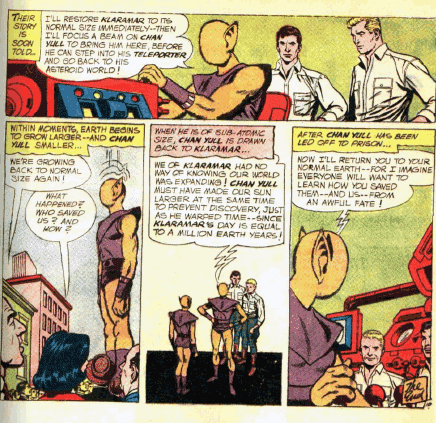 Jim and Bob use their shrink ray, and transport machine, to head to Chun Yull's world, and manage to find Klee Pan, and communicate to him Chun Yull's plot. Klee Pan reverses the growing effect on Chun Yull, and teleports him back home. As we find out years later, Chun Yull was then sealed into an unbreakable bubble. He does not appear again until a DC Comics Presents story in the 80s. Neither Jim nor Bob are seen again, but by the 80s they would doubtlessly have retired anyway.
Faceless Hunters from Saturn: Strange Adventures 124, 142, 153 (Jan 61, July 62, June 63)
Next up – Super-Chief!
Support this writer on Patreon
Last Updated: Jun 26, 2018 - 9:28