DC Comics History: Darwin Jones (1960 - 1964: the Silver Age)
By Deejay Dayton
Jun 5, 2017 - 10:33
Darwin Jones, the head of the Bureau of Scientific Investigation, had two last stories in Strange Adventures during the period 1960 – 1964: the Silver Age.
The first of the two tales appeared in Strange Adventures 149. The story is a fairly complex one, as energy beings involved in an alien war accidentally send a ray to Earth that will dull people's minds. To compensate for this, they send another ray, intended to make one man immortal, and have him construct a repelling machine to hold off the other ray. But the man they choose is a long time criminal, who makes the most of his immortality in committing thefts. Darwin Jones gets involved, and the man cheerfully explains how he got his power, and about the repelling ray that he knows he will be forced to create.
His plan is simply to smash the machine after he builds it, so that everyone else on Earth gets mentally reduced. But Darwin Jones exchanges his potential smashing things with rubber duplicates. The man cannot break the repellor machine, and it drains his immortality in order to function. The art is better than the story.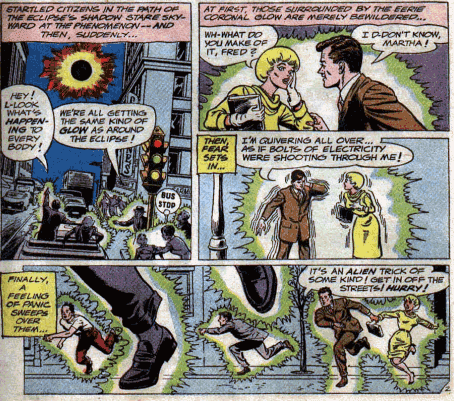 Darwin Jones final story appears in Strange Adventures 160, and adds a new supporting group to the series. Although as it's the last story, it's not like they really get much of a chance to act anyway. A surprise eclipse takes place, and all those in the shadow of it wind up with a mysterious glowing aura. Darwin Jones finds out that the eclipse was caused by a satellite, and the scientist behind it was working on a all-purpose cure. But the satellite went up ahead of time, and a second one is due. If the second one takes place, all those with the glow from the first will die. Jones holds a press conference to explain this, and that he intends to make sure the second satellite does not take off.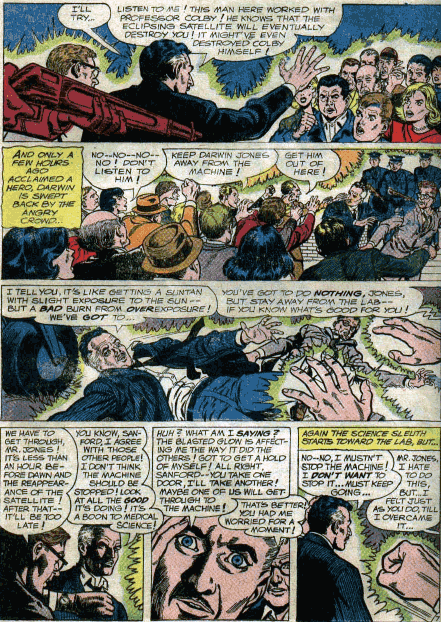 Among those watching are a group of kids, the Young Scienceers. But when those with the glow discover that their ailments are going away, they want the second satellite fired, figuring this will make the cures permanent. The Young Scienceers wind up opposed to Darwin Jones. The story gets really complicated for the page count, with the creator of the healing glow dying, and the machine to fire the satellite able to be controlled mentally.
Jones eventually convinces the Young Scienceers about the threat, and together they destroy the second satellite, through mental control of the machine that operates it. One of the most bizarre of his tales, and also the last solo story Darwin Jones would get. The character would not return until the 80s, in the pages of the Daring New Adventures of Supergirl.
Darwin Jones: Strange Adventures 149, 160 (Feb 63, Jan 64)
Next up – Trigger Twins!
Support this writer on Patreon
Last Updated: Jun 26, 2018 - 9:28