Comics / Comic Reviews / DC Comics
Batgirl #8 Review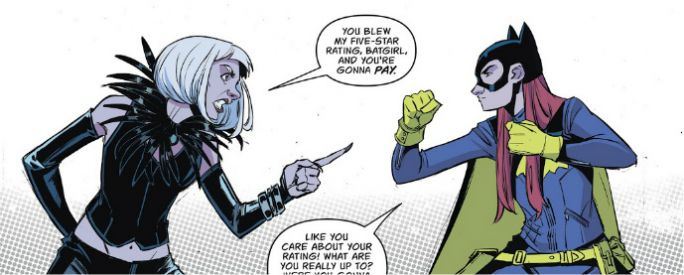 By Zak Edwards
Aug 13, 2017 - 13:24
Batgirl's Rebirth started out a bit shaky. Her trip to Asia left her incredible cast stranded across an ocean, leaving out one of the strongest aspects of Barbara's 2011 reboot. The story itself was interesting but it became abundantly clear that Barbara Gordon is best when she's back in Brooklyn, I mean Burnside, and engaging with her community. Now, that's exactly where she is.


Batgirl
's return to Burnside comes with a hard look into what makes it exactly like Brooklyn, not from a "new & hip" perspective but a "what's happening to the people" angle. Burnside, essentially, now embodies the problems that were always bubbling under its surface, which makes for a fantastic story base. As someone who lives in a city that's frequently compared to Brooklyn (and has a healthy resentment towards gentrification), I love the building blocks writer Hope Larson is using, especially with a strong dose of start-up mercenary mentality for its antagonist.
White collar criminals traditionally have a hard time in the superhero genre, mainly because they replace the "punch
bad
guy to signal defeat" with something a little more abstract, which doesn't work with most forms of superhero
vigilanteism
. Unlike the usual "plot to destroy such-and-such," white collar supervillains are often using the system to create something more mundanely disastrous, like an amalgamation of money or property.
Ms. Marvel
has used the concept to great effect as a platform to discuss the effects of gentrification but here, in
Batgirl
, it has a sort of legacy given the main villain is the titular "Son of Penguin."
It seems a lofty goal, to use the superhero genre to talk about how modern companies are providing the opposite of what they're selling. How Uber, for example, sells cheaper, safer rides by providing less stable incomes, recusing themselves of insurance responsibilities and "democratizing" the safety of passengers and drivers to a
ratings
system. And while there are a lot of moving parts, they blend seamlessly. The worries of gentrification bleed into the setting and into character discussions and motivations. Christian Wildgoose's vision and style
brings
it all together, with a cartoonish, not-taking-itself-so-seriously look with heavy inking and shading, the aforementioned bubbling.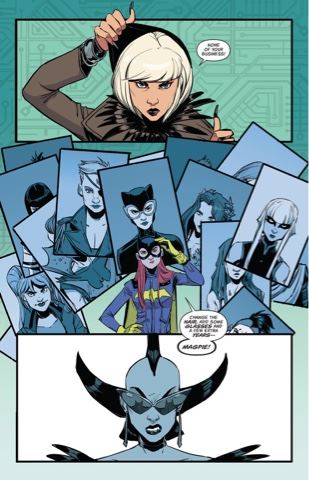 The art team for Batgirl #8 have plenty of opportunity for stylistic fun.
This issue also gives us a look into Ethan Cobblepot's history and sets up his abandonment by his father for his current desire to one-up The Penguin through a
21st century
approach to crime (the endgame is still obscure but painted with some strong foreshadowing). While it adds some depth to the character, it also undermines Batgirl's budding relationship. Even Barbara wonders why she's dating him and the solicitation for the issue asks a similar question about her motivation. Clearly, the romance here is doomed, but bad decisions can often mean great plots so long as the motivations make sense. And here, they do.
The many moving parts are all held together by Wildgoose's incredibly versatile art. He seems capable of anything, from
high intensity
action sequences to grounded conversations and fun, geeking out pages like this look through Magpie's many looks.
tl
;dr review: Hope Larson and Christian Wildgoose have blended together a bunch of moving parts that work seamlessly. An interesting premise and the much-needed return of
Batgirl
's supporting cast makes for a delightful read with a great premise.
Support this writer on Patreon
Last Updated: Jun 26, 2018 - 9:28